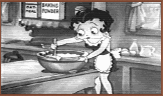 Time to bring back the questions/discussion- tie-in thingys! As I said in my review of Annette Blair's book The Kitchen Witch, I would love for there to be a real TV show like Melody Seabright's but to my knowledge there isn't one. It was years before I was interested in cooking shows at all (especially since I don't cook, I bake) but there are a few I like...


Of course, number one would have to be Martha Stewart, whom I have been completely wowed by time and again. Does anyone else think that she might not be real? She's too… well, too Martha lol (until you see her blooper reel)! I do know there are people who can't stand her but I tend to pick up her books and watch her shows whenever I get a chance. Well that's it. That's the only cooking show I've ever watched and I think I really watched it for the crafts and stuff!


Okay, that's not true, I also watch a different kind of cooking show… the reality TV kind. Yep, I love watching Top Chef and Hell's Kitchen. I am aware of others but I've only seen these, and I only started watching both of them last year. The petty whining and stuff can get pretty annoying but I just enjoy it any way. There aren't many other reality shows I watch besides these two (Project Runway and Shear Genius mainly- nope American Idol is hubby's thing) though.





There are other cooking shows out there, most of which are found on the Food Network but there are two I've never tried before that I would love to do so: Rachel Ray and Paula Dean. I hear these names all the time and I've tried two of Paula's recipes over the holidays (made by someone else) but I have yet to see their shows or try any of their recipes myself. I'd like to know if any of my readers have and if so what? How'd it turn out? What's your favorite?

Well, that wasn't the question I planned to end with when I started writing this. So what I'd like to know is, do you have a favorite TV cooking show? How about one that you used to watch that is now cancelled?