Mo from
Un-Mainstream Mom Reads
tagged me for this meme:
1. I've been reading since I was 3 years old. I was reading Stephen King before I was even officially a teenager but at the same time, I have never had a problem with reading young adult fiction either. Matter of fact, I'm reading one now!

2. I'm not exactly OCD but I do have a thing about germs. If I think something is dirty (like a doorknob) I can't talk myself out of going to scrub my hands. Which is sometimes a problem since I can't stand to have dry hands and constantly am putting lotion on my hands.
3. The very day after I graduated from high school, I moved from Georgia to Mississippi with my then-boyfriend (now husband). I've never really enjoyed being away from my mom for long periods of time so despite living down here for almost 3 years, I'm still very homesick.

4. I love old movies (especially musicals) and music. I'm probably one of the few 21 year olds who can can recognize Bing Crosby from Dean Martin just by ear lol.

5. Walt Disney is one of my most favorite people who have ever existed. I'm crazy about Disney movies and I love watching the bonus features where there is usually an episode of the Disneyland show. 9 times out of 10 I usually end up crying though.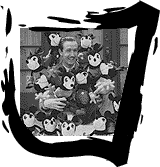 6. I'm funny about my books. I'll take in some that are falling apart but I still treat them just as if
they were brand new- like they're made of glass lol. I also have over 200 books I haven't read that I own, some of these have been sitting on my shelves for years...
7. Oh and I also have a thing about doing things in order like reading and
reviewing. Even if a book can stand on it's own I refuse to read it until I've read it's previous ones (I have broken this rule once or twice so it's not set in stone). I'm 31 book and 19 movie reviews behind (about 3 months worth) because I also refuse to do my posts out of order.
Yep, I know how weird I am. How weird are you? If you've done this already, please leave a link in the comments. If you haven't, I would love for you to do so!!!