How do you feel about wide-spread reading phenomenons - Harry Potter, for instance, or the more current Twilight Saga? Are these books so widely read for a reason, or merely fads or crazes? Do you feel compelled to read - or NOT to read - these books because everyone else is?
Well, I discovered the Harry Potter books a couple of years before the movies came out so that craze really didn't have any effect on me… actually to tell the truth, I was probably one of the people who helped push it on people in my area lol.
Now the Twilight books are a different story. Everyone, and I mean everyone I talked to on these book blogs just about had read them and raved about them and although it had vampires in it (which means that I knew I would love them), I still put off reading them until the very last second. The week before the movie (which I also loved) came out matter of fact!
I doubt I've ever really been compelled to read something because everyone else is. If I do cave to all of the "OMG, this is so good- you have to read it"-'s then it is always because the book (or series) sounds interesting to me... or is something one of my online book groups is reading :)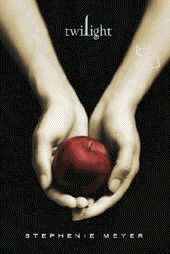 glitter-graphics.com